AUGUST, 2015.  SOIL-THERM is releasing its latest thermal systems for soil remediation applications at the end of August!  The SOIL-THERM "NanoTHERM CatOX" and THERMOX systems offer the most advanced thermal processing technology ever!  SOIL-THERM never buys 'off the shelf burners"!   We've developed our latest "dual stage" heat exchanger inetegrated burner system for super low fuel usage, which also features our high performance Jet-THERM direct fire burner.  Field testing has proven >99+% D.E., smallest (29″ x 48″ skid) 250 scfm complete SVE oxidizer on the market and even has vacuum side and pressure side GAC hookups as well!  Fits anywhere, operates on 230V, 1-phase plug-in, and quick connects to a 20 – 100  gallon propane tank.  At 5% LEL, operation costs are as low as $0.50 per hour using propane.   Perfect for all types of pilot testing and fast response remediation needs!  Or for projects where you're sick of waiting for the gas company to get your natural gas line approved and snatch  your $5-10,000 to get it started 12 weeks later.  Think of the money you can save.
NanoTHERM:   Easily load up your new NanoTHERM and roll it off the back of your truck, plug-in to a local "washing machine" electrical 1-phase plug, roll in and quick connect to a  standard 100 gallon propane tank – –  and you're set!  NO ridiculous waits and high fees or delays for your pilot testing or fixed site projects!  And propane is as low as a $1 a gallon in places which makes these systems even more convenient.
The best news?  WAIT TIL YOU SEE HOW LOW THE PRICE IS!!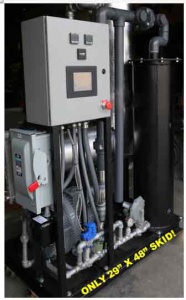 JULY, 2015.  SOIL-THERM's Mark Sujata  was interviewed by the Environmental Business Journal (EBJ) for their Remediation 2015 issue to provide our perspective on current and future trends in the Remediation market.  SOIL-THERM discusses its latest top-secret projects and technologies!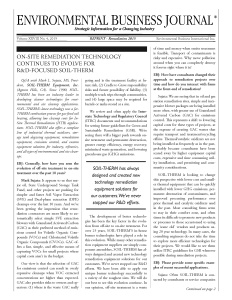 SoilTherm-InterviewEBJ-July2015
MARCH, 2015.  SOIL-THERM's presented our newest technology and display at the RemTEC Summit in Westminster, Colorado, from March 2-4th.  SOIL-THERM introduced our high  performance Ramjet Burner GAS-FIRED technology for DownWell heating and In-Situ Thermal Remediation (ISTR) after recent field studies demonstrated phenomenal heating and cleanup capabilities using a complete soil heating network system built by SOIL-THERM.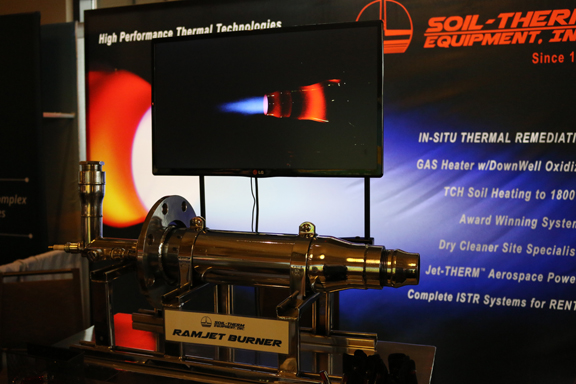 March 2015.  SOIL-THERM received the prestigious Environmental Business Journal Award for Technology Merit: Remediation at the EBI Summit on March 11, 2015, San Diego, CA.  The award was for (1) the Downwell Burner Technology and our DWR-1 Burner, (2) Heat Recovery during ISTR operation using a custom designed heat exchanger to recover well gas exhaust heat in order to preheat the DWR-1 burner operation, and (3) DownWell destruction of CVOC's using a specially designed chlorinated oxidizer that fit within an 8″ well casing and could generate up to 1Million Btus/hour, or approximately 425 horsepower heat into the ground.  Destruction efficiencies demonstrated for PCE at >99.8.   Bro-SoilTherm-EBJ2014